Kami bekerja sama dengan Less Plastic UK dan Gallifrey Foundation dalam kampanye global untuk mendukung pengurangan jejak plastik Anda, pengurangan item dan kemasan plastik sekali pakai, mempromosikan benda benda yang bisa digunakan kembali, mempromosikan perubahan sistem dan alternatif, serta menyebarkan kesadaran tentang dampak pembakaran terbuka.
We teamed up with Less Plastic UK and Gallifrey Foundation on a global campaign to support reduction of your plastic footprint, reduction of single-use plastic items and packaging, promoting reusables and alternative delivery models and spreading awareness about the impact of open burning.
Unduhan gratis – Bergabunglah dengan kampanye kami!
Reusable Period products
Tolong kurangi sampah plastik Help reduce plastic waste
Pilih produk yang dapat di gunakan kembali selama anda datang bulan* Choose reusable period products*
*Lebih murah, lebih sehat, tanpa limbah
*Cheaper, Healthier, Zero Waste
The use of reusables in take-away and shops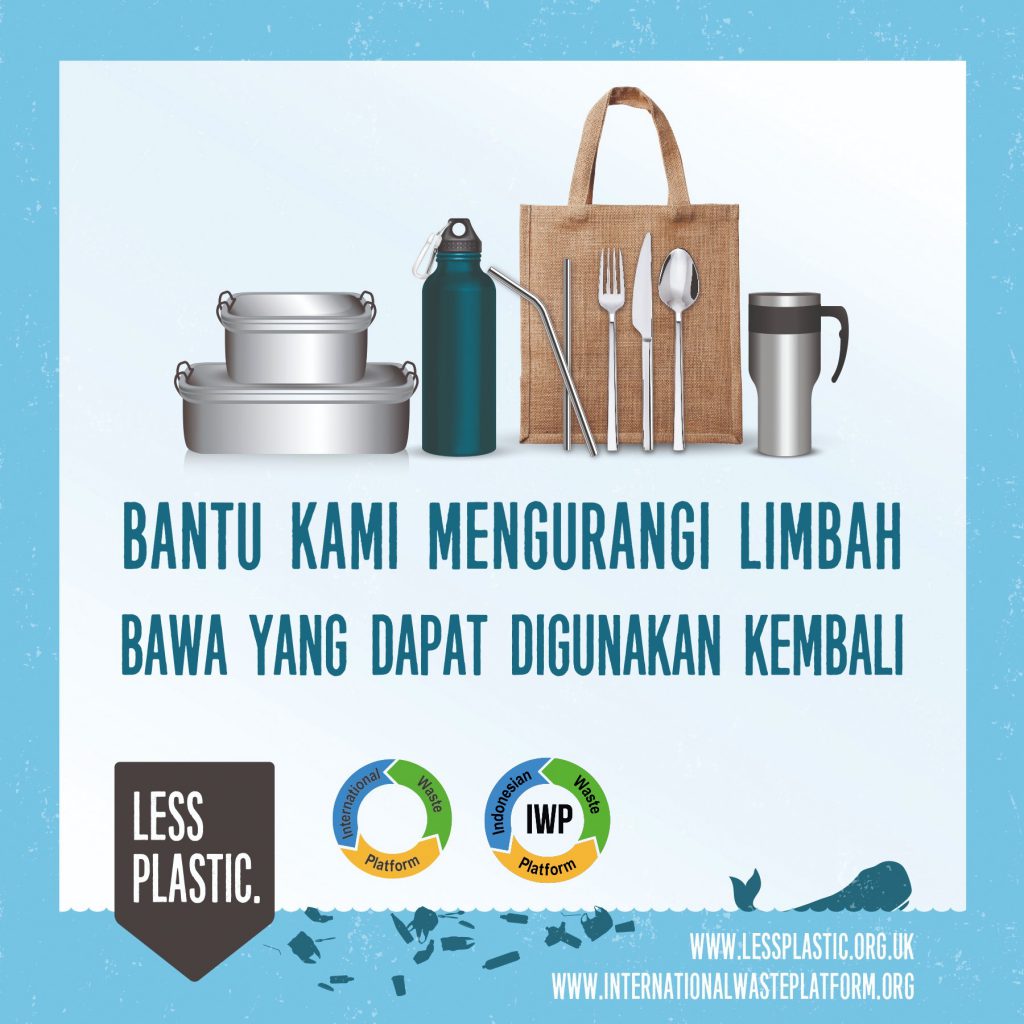 This poster is to help restaurants, fast food chains, take-away providers, cafés, shops, supermarkets, and canteens in schools and workplaces to reduce waste by encouraging people to bring their own reusables.
Help spread the word and feel free to display this poster where it is clearly visible for your clients.
Reusable cloth face masks
Reduce single-use face masks and promote reusable face masks instead.
Single-use plastic face masks are found littered in environment across the globe. If everyone wore a disposable mask every day for a year, we'd have 3 TRILLION masks to dispose of. Disposable masks take centuries to breakdown, and in the meantime when they inevitably escape into the environment, they can be lethal for any birds, mammals, turtles, and fish that get tangled in them.
Disposable masks are necessary for frontline medical staff, and vulnerable people – but the majority of people can keep themselves and their communities safe by wearing reusable #facemasks – and therefore minimise the long-term environmental impact caused by #Covid19.
Follow the WHO guidelines and your national regulations and instructions related to the use of face masks. These regulation differ from one country to the next.
22 January 2021 : The WHO advises that "non-medical, fabric masks can be used by the general public under the age of 60 and who do not have underlying health conditions."
To reduce the spreading of the virus it is recommended to use face masks together with other measures, social-distancing and regular hand-washing according to protocols advised by the WHO
9 WAYS TO REDUCE PLASTIC IN YOUR SCHOOL AND WORKPLACE
9 ways to reduce plastic in your school
Schools can reduce their plastic foot print by taking some simple steps. This poster provides suggestions for alternatives.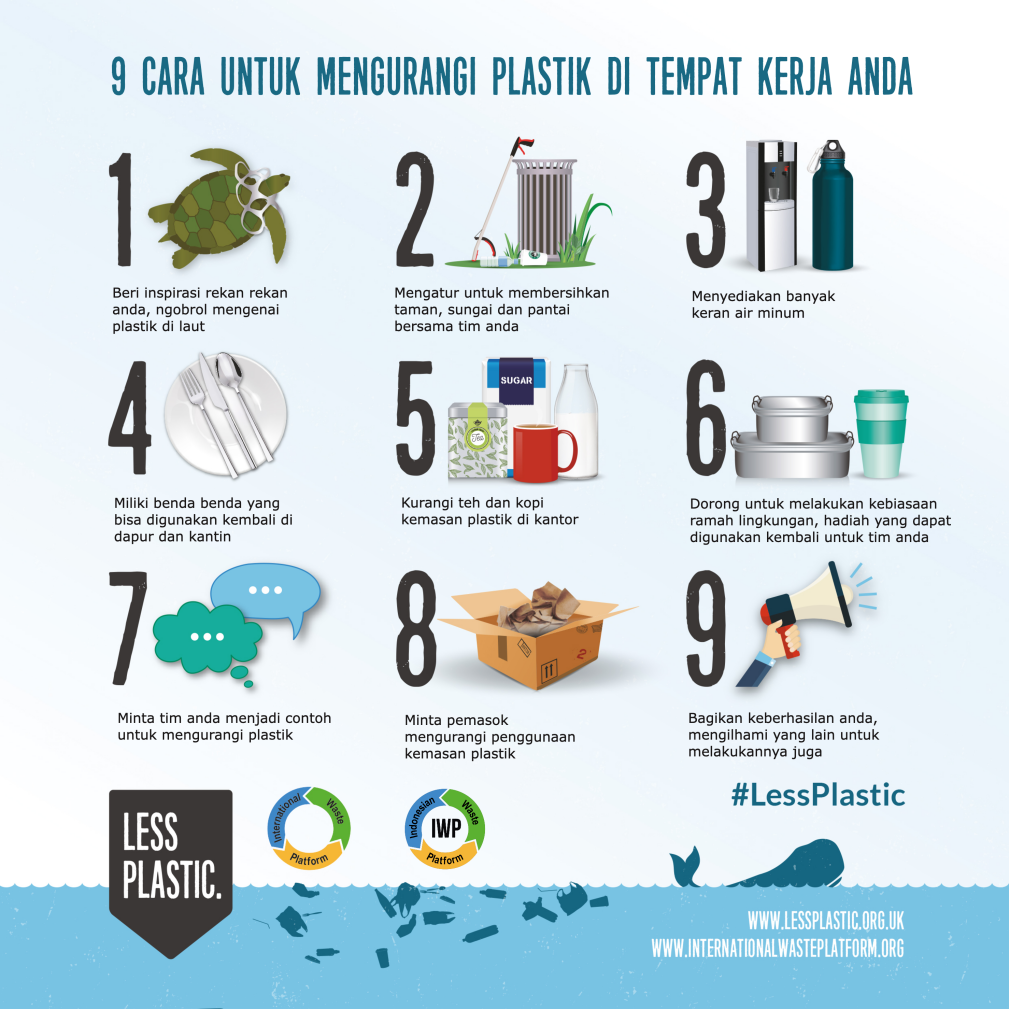 9 ways to reduce plastic in your workspace
You can reduce your plastic footprint in your workspace. This posters helps you to take some simple steps and introduce alternatives.
single-use plastic diapers
A baby is likely to go through between 5,000 and 6,000 disposable plastic diapers before becoming potty trained. Population projections show that the yearly number of births will remain at around 140 million per year over the coming decades. Habits and practices related to diapering continue to vary greatly around the world and are continually evolving based on changing cultural norms, disposable income, and access to information.
One thing is certain ….. diapers are not recyclable in most countries.
The fate of most plastic diapers is littered on land and in rivers, landfilled or incinerated, depending on where you live
Reusable cloth diapers save families money, avoiding plastic diapers helps reducing plastic pollution.
Do follow proper hygiene measures. On the internet you can find lots of information about newborn health, for example on the website of the World Health Organisation or on this webpage
Cloth diapers are sold in many countries. In regions where they are not available or too expensive moms or women groups can make them, there are lots of videos with clear instructions, for example this video
Feel free to join our diaper campaign ! You can download the diaper poster for free and use in socialisation in women groups.
Balloons
International Waste Platform, Indonesian Waste Platform and Gallifrey Foundation joined forces to ban plastic balloons. Surely we are beyond the point that single-use plastics used just for fun is acceptable.
Plastic balloons pose a serious risk to our environment. Join our collaborative campaign and feel free to use this poster to spread awareness about the impact of balloons. Watch this Video 'When Balloons Fly' by ZoosVictoria
Helium use for fun is not sustainable and irresponsible, Helium resources are limited and this scarcity puts pressure on medical healthcare . Despite claims that biodegradable balloons biodegrade, tests show that biodegradability is limited. Strings and plastic closures on balloons harm wildlife, due to entanglement and digestion.
Reduction of marine pollution by single-use plastic used in subsistence fisheries
Free downloads – Join our campaigns !
Bersama Kita Bersihkan Tanah Air 🌿 Together We Clean The Nation