Organisasi limbah, proyek & peta jaringan daur ulang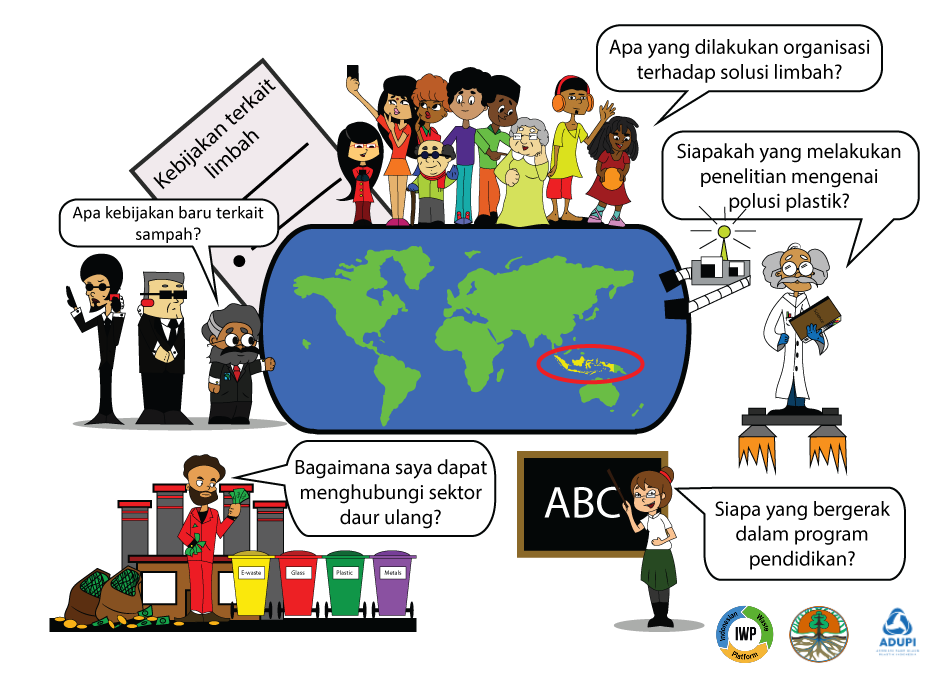 Peta ini menciptakan wawasan tentang siapa yang melakukan apa dan di mana dan mendorong pembentukan kolaborasi lintas sektor dan pertukaran pengetahuan.
Peta ini merupakan inisiatif kolaboratif dengan mitra jaringan di International Waste Platform. Peta ini dikembangkan oleh jaringan saudara kami di Afrika Selatan – Sustainable Sea Trust (SST)
Peta ini disahkan oleh Kementerian Lingkungan Hidup dan Kehutanan Republik Indonesia dan Asosiasi Daur Ulang Plastik Indonesia
Peta ini melengkapi peta fasilitas persampahan yang disediakan oleh Kementerian Lingkungan Hidup & Kehutanan. Peta KLHK memiliki lapisan untuk menunjukkan lokasi TPA (Tempat Pembuangan Akhir), Bank Sampah (bank sampah), fasilitas pengomposan, fasilitas yang menghasilkan produk kreatif dari sampah dan TPS3R / PDU / IT (pusat pengumpulan)
This map creates insights in who is doing what and where. This contributes to forming cross-sector collaborations and knowledge exchange.
The map is a collaborative initiative with network partners at International Waste Platform. The map was developed by our sister network in South Africa – the Sustainable Sea Trust (SST).
This map is endorsed by Ministry of Environment and Forestry Republic of Indonesia and the. Indonesian Plastics Recycling Association
This map is complimentary to the waste facilities map provided by the Ministry of Environment & Forestry. The KLHK Map has layers to indicate locations of TPA (landfills), Bank Sampah (waste banks), composting facilities, facilities which produce creative products from waste and TPS3R / PDU / IT (collection centres)
© Indonesian Waste Platform